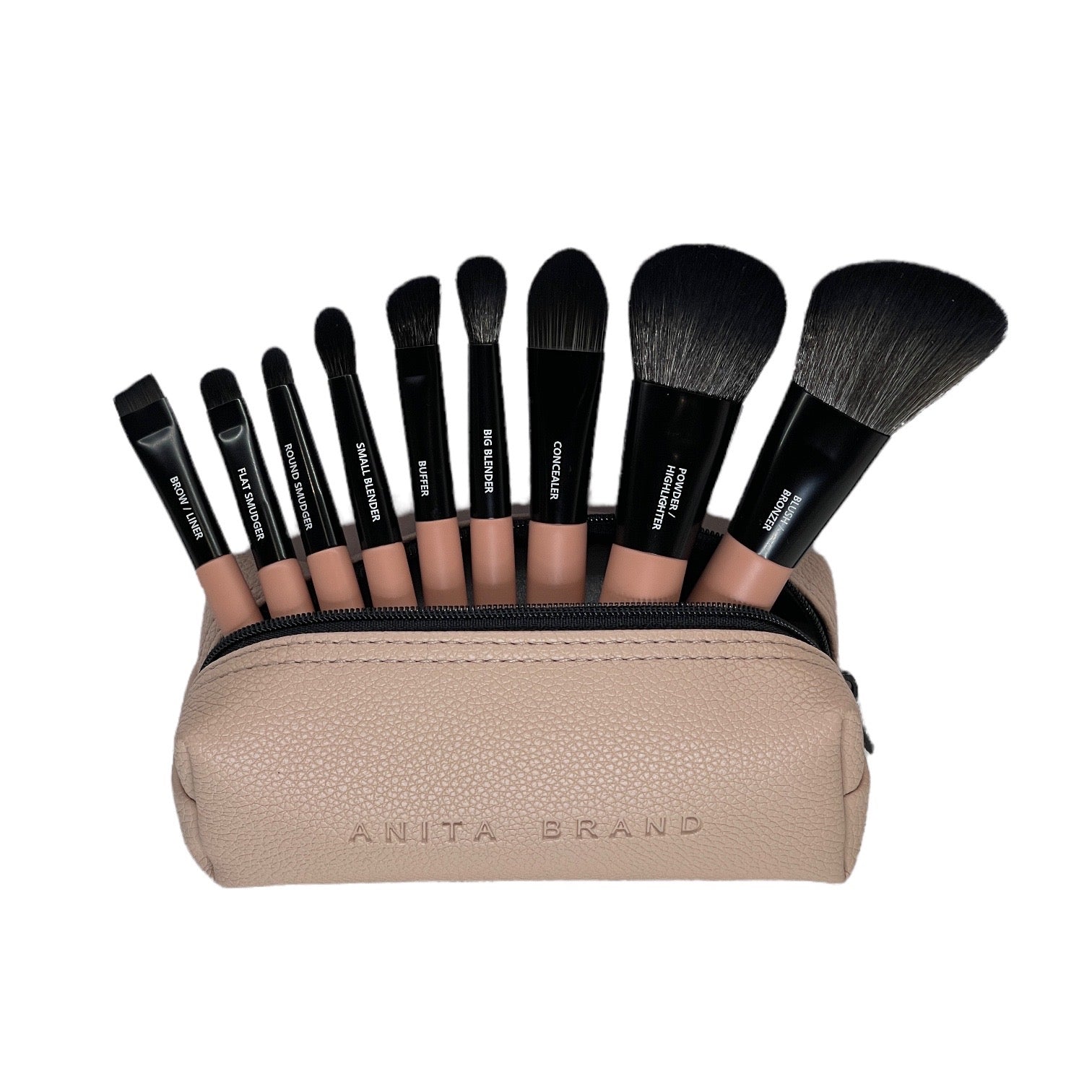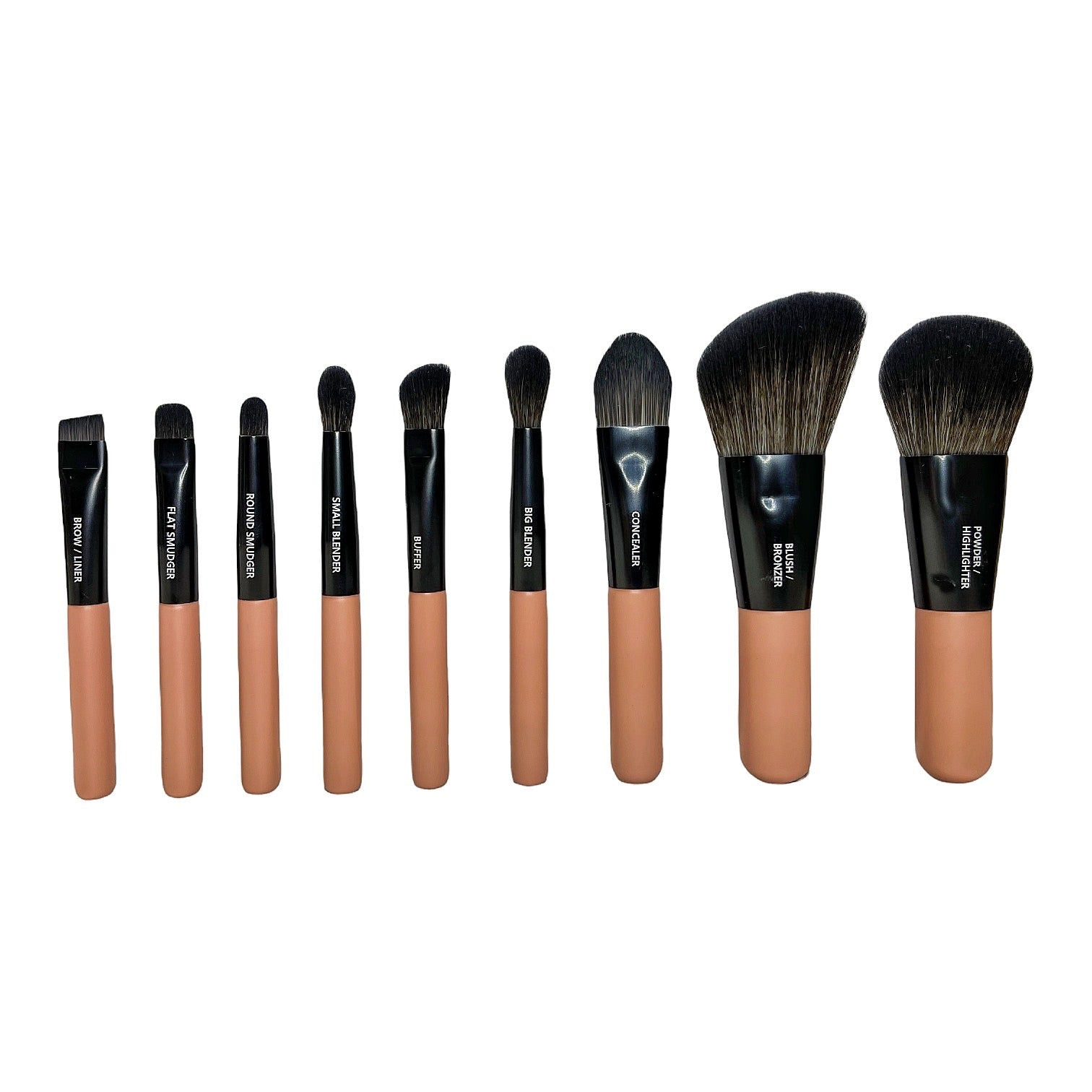 SUPER MINI TRAVEL KIT BRUSHES
Sale price
€48,00
Regular price
€0,00
SUPER MINI TRAVEL KIT BRUSHES
Sale price
€48,00
Regular price
€0,00
Product description
Shipping
Refunds
-100% HANDMADE
-
VEGAN
-
CRUELTY FREE
-Handle: ECO-friendly wood
-Hair: super soft high quality synthetic blue squirrel imitation nami hair
-Ferrule: high quality thick scratchless aluminium
Each brush is protected individually in a plastic protective sleeve.
The travel brush kit comes in a environmental friendly soft PU pouch with black satin lining.
The SuperMiniTravelKit contains total 9 brushes for the eyes and face.
Handle size: 7cm - 7.5cm
Super Lightweight: 94gr
All our brushes are 100% HANDMADE following the 5S Methodology to maintain clean, organised, standardised and effective working environment, from environmental friendly carefully selected vegan materials with over 40 Quality Control Inspectors in a factory that comply with and are approved by:
EU REACH - EU REACH addresses the production and use of chemical substances, and their potential impacts on both human health and the environment. Its 849 pages took seven years to pass, and it has been described as the most complex legislation in the Union's history

and the most important in 20 years.

It is the strictest law to date regulating chemical substances and will affect industries throughout the world.
SGS test - The core services offered by SGS include the inspection and verification of the quantity, weight and quality of traded goods, the testing of product quality and performance against various health, safety and regulatory standards, and to make sure that products, systems or services meet the requirements of standards set by governments, standardization bodies or by SGS customers.
ΣΕ ΟΛΑ ΤΑ ΠΡΟΙΟΝΤΑ ΤΗΣ ΚΑΤΗΓΟΡΙΑΣ ANITA BRAND COSMETICS ΔΕΝ ΜΠΟΡΟΥΝ ΝΑ ΠΡΑΓΜΑΤΟΠΟΙΗΘΟΥΝ ΕΠΙΣΤΡΟΦΕΣ ΚΑΙ ΑΛΛΑΓΕΣ
Cash on delivery is only valid for Greece, not for foreign countries.


Greece (max 0.5kg) 2.5€
European Union
– via ELTA services (max 0.5kg) 10€
Non-European Union:
– via ELTA services (max 0.5kg) 10€

In case of non-acceptance of the import of the products in your country, or for customs charges our company does not bear any responsibility.
Within 14 days from the date of receipt, you have the right to exchange any Products bought, without any damage to you and without being required to disclose the reason for which you wish to exchange, provided that the Products to be returned are in the same condition as upon their receipt, without being worn or damaged.
All returned items will be inspected by THE BRAND SHAKER© Team. They must be new, unused and in their original state. Any product returned that is incomplete, damaged, worn or dirty will not be repeated and will be returned to its buyer.
For your convenience, upon delivery of the Products, it is advisable that you personally check the condition of the Products for any defects or problems with your order, its packaging or the Products. In case of return, any dispatch expenses resulting from such return of Products are born by yourselves.
For the shipment of jewelry to us for any reason (repair, exchange etc) our company bears no responsibility.
RETURNS OR EXCHANGE WITHOUT THE RECEIPT WILL NOT BE ACCEPTED.
OUR COMPANY HAVE NO RESPONSIBILITY IN CASE OF A BREAK OF A JEWEL UNLESS IT BROKE WHEN IT IS SHIPPED TO YOU. THE COST OF RETURNING THE PRODUCT IN ANY CASE IS ADDED TO THE CUSTOMER.
OUR COMPANY HAVE NO RESPONSIBILITY IN CASE OF THE DESTRUCTION OF THE COLOUR AND THE PLATING OF THE JEWELRY AND, ESPECIALLY, IN THE CASE OF FAUX JEWELRY SHOULD BE EXTREMELY CAREFUL IN THEIR CARE.
WARNING!!!
Until the product arrives back to our company, it is very important to ensure its safe transport as it is under your responsibility, so that the product is not lost or damaged and therefore it is impossible to return or change it.
WARNING!!!
DISCOUNTED PRODUCTS ARE NOT ACCEPTED FOR EXCHANGE OR RETURNS
RETURNS OR EXCHANGE ARE NOT ACCEPTED FOR ALL THE PRODUCTS OF THE ANITA BRAND COSMETICS CATEGORY IN NO CASE
RETURNS OR EXCHANGE ARE NOT ACCEPTED FOR ALL THE PRODUCTS OF THE CATEGORY DIAMONDS & FINE JEWELRY IN NO CASE
BEFORE RETURNING ANY PRODUCT IT IS ESSENTIAL TO CONTACT THE BRAND SHAKER© CUSTOMER services!!!
THEBRANDSHAKER@GMAIL.COM
Please contact THE BRAND SHAKER customer services.
THEBRANDSHAKER@GMAIL.COM