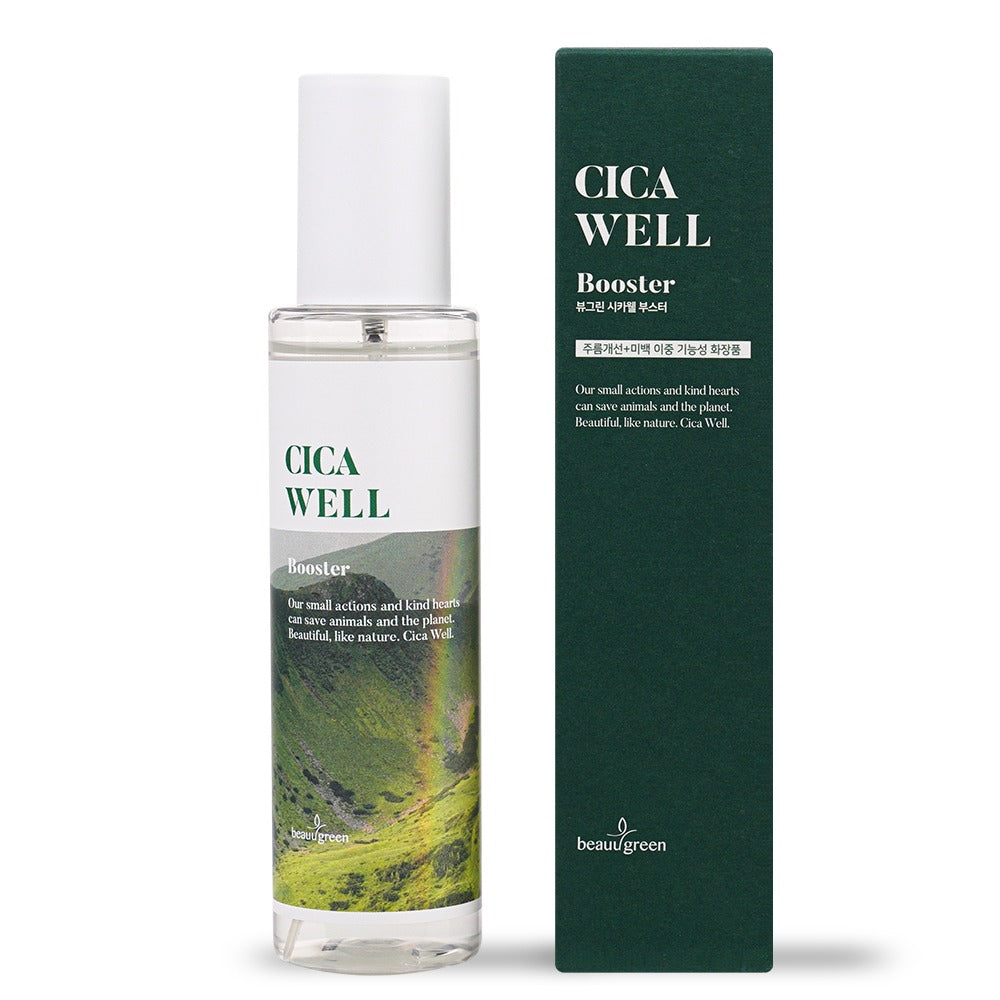 Sale price
€19,00
Regular price
CICA WELL
I FOUND THE CICA WELL BOOSTER PERFECT FOR MY SKIN, VERY REFRESHING AND MY FACE LOOKS VERY NICE. I AM VERY PLEASED
CICA WELL BOOSTER SPRAY
Sale price
€19,00
Regular price
Product description
Shipping
Refunds
150ml
Made in Korea
- Wrinkle Improving Effect
- Skin Soothing Effect
- Skin Damage Recovery Effect
- Skin Refreshing Effect
- Calming Effect
- Suitable For All Ages
- Eco-Friendly Ingredients
- Eco-Friendly Packaging
- Natural Ingredients
- Cruelty Free
- Vegan
- Not tested on Animals
Useful Ingredients: 
NIACINAMIDE  boosts collagen production to improve skin texture, including smoothness, fine lines and wrinkles and helps brighten and fade hyperpigmentation through the regulation of melanosome transfer.
-Calm redness
-Reduce the appearance of pores 
-Reduce wrinkles and fine lines
ASPERGILLUS FERMENT: A skin lightening agent. Inhibit the body's tyrosinase activity, and over time reduce the skin's melanin (discoloration) production and fade the appearance of hyper-pigmented spots. 
SACCHAROMYCES FERMENT FILTRATE is positioned to play multiple roles in beauty products, including functioning a skin-soothing agent and antioxidant.  It is also used to boost hydration. 
GALACTOMYCES FERMENT FILTRATE
 has various benefits on the skin , including a decrease in the size of enlarged pores, a decrease in blackheads and acne, an increase in skin brightness and a decrease in sebum production.
MADECASSIC ACID It's been proven to help soothe and calm skin. it's even suitable for those with rosacea-prone skin. As a triterpene, madecassic acid also exhibits antioxidant benefits.
Beauugreen Cica Well Booster:
Pleasantly refreshes the skin
Eliminates the feeling of tightness
Restores the optimal balance of the skin and prepares it for subsequent care
Increases the effectiveness of other skin care products
Stops premature aging of the skin
Promotes collagen synthesis
Saturates the cells of the dermis with moisture
Booster with CENTELLA ASIATICA indicated for the care and hydration of all skin types even of sensitive skin
It forms a protective barrier that protects the skin from ultraviolet radiation and negative environmental factors, improves cell regeneration and renewal, increases the protective properties of the skin and forms a barrier that prevents the effects of aggressive environmental factors on the skin such as polution. It also contains hyaluronic acid to create an invisible barrier on the skin that prevents moisture evaporation and improves skin structure.
Beauugreen Cica Well booster is a refreshing water-full mist that is quickly absorbed without stickiness and gives a refreshing finish.
How to use:
After washing your face, close your eyes 10 to 20 cm away with your head slightly raised and spray evenly over the entire face 4 to 5 times, then tap lightly to absorb into the skin. You can also use them after completing your makeup. You can use it as many times as you feel necessary during the day for an extra hydration
* Tip: Keep it in the fridge for a fresh feeling.
Ingredients:
AQUA, GLYCERETH-26, 1,2- HEXANEDIOL, NIACINAMIDE, METHYLROPANEDIOL, BUTYLENE GLYCOL, PROPANEDIOL, ATHYLHEXYLGLYCERIN, ADENOSINE, VERONICA OFFICINALIS EXTARCT, DISODIUM EDTA, FRAGRANCE, Sodium Hyaluronate, ASIATICOSIDE, MADECASSIC ACID, ASIATIC ACID, Centella Asiatica EXTARCT, ASPERGILLUS FERMENT, SACCHAROMYCES FERMENT FILTRATE, GALACTOMYCES FERMENT FILTRATE, LEUCONOSTOC/ RADISH ROOT FERMENT FILTRATE, LACTOBACILLUS FERMENT LYSATE, HYDROLYZED Hyaluronic Acid, MADECASSOSIDE, SODIUM Acetylated Hyaluronate, LINALOOL
How are we ECO-FRIENDLY and help ENDANGERED ANIMALS :
We only use first-class PETE containers that are easy to recycle due to their ability not to mix with other impurities and emit less harmful ingredients during the recycling process.
Our Cica Well Skin Care products are Eco-friendly and certified CLEAN BEAUTY products that excludes animal testing in all procedures and does not use any animal derived ingredients.
Hypoallergenic safe formula without any harmful ingredients.
We protect the ozone layer by using wood-made paper which is certified by the International Forestry Management, which we are in association with for helping sustainable forest protection.
For our printings we are using Eco-Friendly vegetable SOY INK.
EΛΛΗΝΙΚΑ:
- Βελτίωση των ρυτίδων
- Καταπραΰνει το δέρμα
- Βελτιώνει την αποκατάσταση του δέρματος
- Αναζωογονεί το δέρμα
- Ηρεμεί την επιδερμίδα
- Είναι κατάλληλο για όλες τις ηλικίες
- Φιλικά προς το περιβάλλον συστατικά
- Φιλικές προς το περιβάλλον συσκευασίες
- Φυσικά συστατικά
- Cruelty Free
- Vegan
- Not tested on Animals
Χρήσιμα Συστατικά: 
Η NΙΑΣΙΝΑΜΙΔΗ  ενισχυεί την παραγωγή του κολλαγόνου για τη βελτιώση της υφής του δέρματος, συμπεριλαμβανομένης της ομαλότητας των λεπτών γραμμών και των ρυτίδων και βοηθά στη φωτεινότητα και την εξασθένηση της υπερμελάγχρωσης μέσω της ρύθμισης της μεταφοράς μελανοσώματος. 
-Hρεμεί την ερυθρότητα 
-Μειώνει την εμφάνιση των πόρων
-Μειώνει τις ρυτίδες και τις λεπτές γραμμές
ASPERGILLUS FERMENT 
Ένας παράγοντας λεύκανσης του δέρματος. Αναστέλλουν τη δραστηριότητα της τυροσινάσης του σώματος και με την πάροδο του χρόνου μειώνουν την παραγωγή μελανίνης (αποχρωματισμός) του δέρματος μειώνοντας την εμφάνιση υπερχρωματισμένων κηλίδων. 
SACCHAROMYCES FERMENT FILTRATE έχει πολλαπλούς ρόλους στα προϊόντα ομορφιάς, συμπεριλαμβανομένης της λειτουργίας ενός καταπραϋντικού  και αντιοξειδωτικού παράγοντα. Χρησιμοποιείτε επίσης για την ενίσχυση της ενυδάτωσης. 
GALACTOMYCES FERMENT FILTRATE
 έχει διάφορα οφέλη για το δέρμα συμπεριλαμβανομένης της μείωσης του μεγέθους των διευρυμένων πόρων, της μείωσης των μαύρων στίγματων και της ακμής, της αύξησης της φωτεινότητας του δέρματος και της μείωσης παραγωγής σμήγματος. 
MADECASSIC ACID έχει αποδείχθει ότι καταπραϋνει και ηρεμεί το δέρμα. Είναι κατάλληλο ακόμη και για άτομα με δέρμα με τάση για ροδοχρού ακμή. Παρουσιάζει επίσης αντιοξειδωτικά οφέλη.
Το Beauugreen Cica Well Booster είναι ένα ενυδατικό ενισχυτικό τόνερ:
Αναζωογονεί ευχάριστα την επιδερμίδα
Εξαλείφει την αίσθηση σφιξίματος
Αποκαθιστά τη βέλτιστη ισορροπία του δέρματος και το προετοιμάζει για μετέπειτα περιποίηση
Αυξάνει την αποτελεσματικότητα άλλων προϊόντων περιποίησης δέρματος
Σταματά την πρόωρη γήρανση του δέρματος
Προωθεί τη σύνθεση κολλαγόνου
Διατηρεί την σωστή υγρασία στο δέρμα
Σχηματίζει ένα προστατευτικό φράγμα που προστατεύει το δέρμα από την υπεριώδη ακτινοβολία και τους αρνητικούς περιβαλλοντικούς παράγοντες, βελτιώνει την αναγέννηση και την ανανέωση των κυττάρων, αυξάνει τις προστατευτικές ιδιότητες του δέρματος και σχηματίζει ένα φράγμα που αποτρέπει τις επιπτώσεις επιθετικών περιβαλλοντικών παραγόντων όπως η μόλυνση.
Περιέχει υαλουρονικό οξύ για να δημιουργήσει ένα αόρατο φράγμα στο δέρμα που εμποδίζει την εξάτμιση της υγρασίας και βελτιώνει τη δομή του δέρματος.
Το Beauugreen Cica Well Booster είναι ένα αναζωογονητικό σπρει γεμάτο νερό που απορροφάται γρήγορα χωρίς να κολλάει και δίνει ένα αναζωογονητικό φινίρισμα.
Τρόπος χρήσης:
Αφού πλύνετε το πρόσωπο σας, κλείστε τα μάτια σας και ψεκάστε το πρόσωπο σας ομοιόμορφα από απόσταση 10 έως 20 εκατοστών 4 εώς 5 φορές με το κεφάλι ελαφρώς ανασηκωμένο και στη συνέχεια κάντε ταμποναριστές κινήσεις με τα χέρια σας ελαφρά για να απορροφηθεί από το δέρμα. Μπορείτε επίσης να τα χρησιμοποιήσετε αφού ολοκληρώσετε το μακιγιάζ σας η στην διαρκεία της ημέρας όσες φορές επιθυμείτε για μια επιπλέον ενυδάτωση.
* Συμβουλή: Διατηρήστε το στο ψυγείο για φρεσκάδα.
Είμαστε φιλικοί προς το περιβάλλον και βοηθάμε ζώα που κινδυνεύουν από εξαφάνιση:
Χρησιμοποιούμε δοχεία της καλύτερης ποιότητας PETE τα οποία ανακυκλώνονται εύκολα που έχουν την ικανότητα να μην αναμειγνύονται με άλλα ακαθάριστα υλικά τα οποία εκπέμπουν λιγότερα επιβλαβή συστατικά στην διάρκεια της ανακύκλωσης.
Tα προιόντα Cica Well ειναι φιλικά προς το περιβάλλον και πιστοποιημένα CLEAN BEAUTY προιόντα τα οποία δεν περιέχουν κανένα ζωικό συστατικό και σε όλη την διαδικασία της παραγώγης δεν γίνονται δοκιμές σε ζώα.
Ασφαλής υποαλλεργική φόρμουλα χωρίς κανένα επιβλαβή συστατικό.
Προστατεύουμε την στιβάδα του όζοντος χρησιμοποιώντας χαρτί από ξύλο το οποίο είναι πιστοποιημένο από το International Forestry Management, για να βοηθήσουμε στην βιόσιμη της προστασίας των δασών.
Στις εκτυπώσεις μας χρησιμοποιούμε φιλικά προς το περιβάλλον μελάνι σόγιας.
***Προσοχή, τα προϊόντα δεν αντικαθιστούν καμία φαρμακευτική αγωγή και κανένα φαρμακευτικό προϊόν.
ΣΕ ΟΛΑ ΤΑ ΠΡΟΙΟΝΤΑ ΤΗΣ ΚΑΤΗΓΟΡΙΑΣ ANITA BRAND COSMETICS ΔΕΝ ΜΠΟΡΟΥΝ ΝΑ ΠΡΑΓΜΑΤΟΠΟΙΗΘΟΥΝ ΕΠΙΣΤΡΟΦΕΣ ΚΑΙ ΑΛΛΑΓΕΣ!
Cash on delivery is only valid for Greece, not for foreign countries.


Greece (max 0.5kg) 2.5€
European Union
– via ELTA services (max 0.5kg) 10€
Non-European Union:
– via ELTA services (max 0.5kg) 10€

In case of non-acceptance of the import of the products in your country, or for customs charges our company does not bear any responsibility.
Within 14 days from the date of receipt, you have the right to exchange any Products bought, without any damage to you and without being required to disclose the reason for which you wish to exchange, provided that the Products to be returned are in the same condition as upon their receipt, without being worn or damaged.
All returned items will be inspected by THE BRAND SHAKER© Team. They must be new, unused and in their original state. Any product returned that is incomplete, damaged, worn or dirty will not be repeated and will be returned to its buyer.
For your convenience, upon delivery of the Products, it is advisable that you personally check the condition of the Products for any defects or problems with your order, its packaging or the Products. In case of return, any dispatch expenses resulting from such return of Products are born by yourselves.
For the shipment of jewelry to us for any reason (repair, exchange etc) our company bears no responsibility.
RETURNS OR EXCHANGE WITHOUT THE RECEIPT WILL NOT BE ACCEPTED.
OUR COMPANY HAVE NO RESPONSIBILITY IN CASE OF A BREAK OF A JEWEL UNLESS IT BROKE WHEN IT IS SHIPPED TO YOU. THE COST OF RETURNING THE PRODUCT IN ANY CASE IS ADDED TO THE CUSTOMER.
OUR COMPANY HAVE NO RESPONSIBILITY IN CASE OF THE DESTRUCTION OF THE COLOUR AND THE PLATING OF THE JEWELRY AND, ESPECIALLY, IN THE CASE OF FAUX JEWELRY SHOULD BE EXTREMELY CAREFUL IN THEIR CARE.
WARNING!!!
Until the product arrives back to our company, it is very important to ensure its safe transport as it is under your responsibility, so that the product is not lost or damaged and therefore it is impossible to return or change it.
WARNING!!!
DISCOUNTED PRODUCTS ARE NOT ACCEPTED FOR EXCHANGE OR RETURNS
RETURNS OR EXCHANGE ARE NOT ACCEPTED FOR ALL THE PRODUCTS OF THE ANITA BRAND COSMETICS CATEGORY IN NO CASE
RETURNS OR EXCHANGE ARE NOT ACCEPTED FOR ALL THE PRODUCTS OF THE CATEGORY DIAMONDS & FINE JEWELRY IN NO CASE
BEFORE RETURNING ANY PRODUCT IT IS ESSENTIAL TO CONTACT THE BRAND SHAKER© CUSTOMER services!!!
THEBRANDSHAKER@GMAIL.COM
Please contact THE BRAND SHAKER customer services.
THEBRANDSHAKER@GMAIL.COM