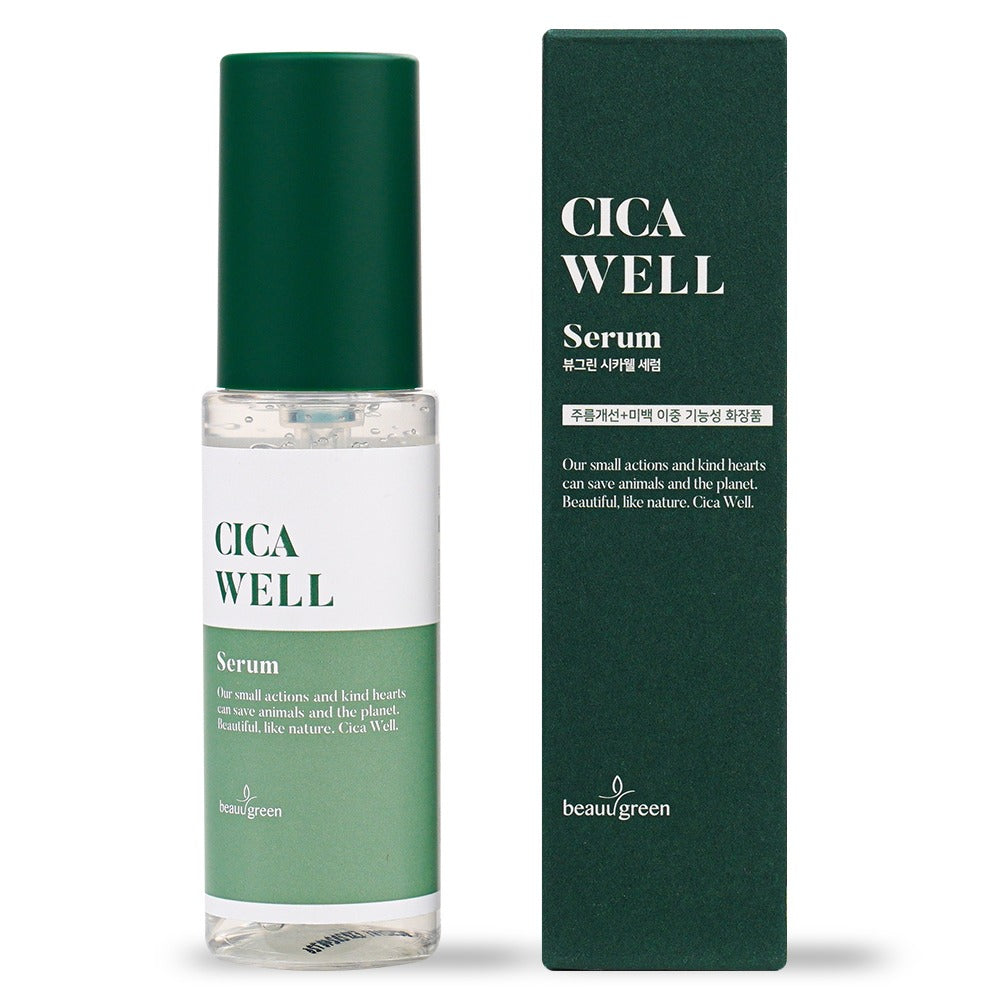 Sale price
€22,00
Regular price
CICA WELL SERUM
Sale price
€22,00
Regular price
Product description
Shipping
Refunds
50ml
Made in Korea
- Wrinkle Improving Effect
- Calming Effect
- Moisturizing Light Film
- Water Gel
- Stops Premature Aging Of The Skin
- Eco-Friendly Ingredients
- Eco-Friendly Packaging
- Natural Ingredients
- Not tested on Animals
- Cruelty Free
- Vegan

Beauugreen cica well hydrating serum:
Stops premature aging of the skin
Improves circulation
Promotes the synthesis of collagen
Regulates the sebaceous glands
Eliminates oiliness and prevents pores from clogging
Improves skin texture
Reduces the visibility of pores
It's main ingredient is Centella Asiatica extract it makes the serum more effective in improving skin firmness and elasticity and saturates dermis cells with moisture. It absorbs quickly and forms a non-sticky moisturizing film on the skin.
The perfect serum for any climate, it will accompany you throughout the year, even in winter when the skin dries out it provides a rich hydration and in the hot summer it leaves your skin with a non-sticky feeling.
How to use:
Apply a few drops of the serum before and/or after the Cica Well Booster Spray evenly on the skin, let it absorb and finish off your skin care routine with Cica Well Hydrating Cream.
Ingredients:
Aqua, 1,2-Hexanediol, Niacinamide, Butylene Glycol, Glycereth-26, Glycerin,Propanediol,Arginine,Acrylates/C10-30
Alkyl Acrylate Crosspolymer, Ammonium Acryloyldimethyltaurate/VPCopolymer, Glyceryl Polyacrylate, Veronica Officinalis Extract, Ethylhexylglycerin, Adenosine, Disodium EDTA, Fragrance, Centella Asiatica Extract, Asiaticoside,
Madecassic acid, Asiatic acid, Sodium Hyaluronate, Madecassoside, Aspergillus Ferment, Saccharomyces Ferment
Filtrate, Galactomyces Ferment Filtrate, Leuconostoc/Radish Root Ferment Filtrate, Lactobacillus Ferment Lysate,
Acetylated Hyaluronate, Geraniol, Linalool.
How are we ECO-FRIENDLY and help ENDANGERED ANIMALS :
We only use first-class PETE containers that are easy to recycle due to their ability not to mix with other impurities and emit less harmful ingredients during the recycling process.
Our Cica Well Skin Care products are Eco-friendly and certified CLEAN BEAUTY products that excludes animal testing in all procedures and does not use any animal derived ingredients.
Hypoallergenic safe formula without any harmful ingredients.
We protect the ozone layer by using wood-made paper which is certified by the International Forestry Management, which we are in association with for helping sustainable forest protection.
For our printings we are using Eco-Friendly vegetable SOY INK.
EΛΛΗΝΙΚΑ :
- Bελτίωση των ρυτίδων
- Ηρεμεί την επιδέρμιδα
- Προσφέρει ενυδάτωση
- Water Gel
- Σταματά την πρόωρη γήρανση του δέρματος
- Φιλικά προς το περιβάλλον συστατικά
- Φιλικές προς το περιβάλλον συσκευασίες
- Φυσικά συστατικά
- Μη δοκιμασμένα σε ζώα
- Cruelty Free
-Vegan
Το gel είναι γεμάτο απο υγρασία, απορροφάται πολύ κοντά στο δέρμα για να σχηματίσει ενα μή κολλώδες ενυδατικό φίλμ.
Beauugreen Cica Well Serum είναι ένας ορός ενυδάτωσης:
Σταματά την πρόωρη γήρανση του δέρματος
Προωθεί την σύνθεση του κολλαγόνου
Ρυθμίζει τους σμηγματογόνους αδένες
Εξαλείφει την λιπαρότητα και αποτρέπει την απόφραξη των πόρων
Βελτιώνει την υφή του δέρματος
Μειώνει την ορατότητα των πόρων
Tο βασικό συστατικό ειναι Centella Asiatica το οποιο κάνει τον ορό πιο αποτελεσματικό στο να βελτιώσει την σφριγηλότητα και την ελαστικότητα του δέρματος, διαποτίζει τα κύτταρα του δέρματος με υγρασία.Απορροφάται γρήγορα και σχηματίζει ενα μη κολλώδες ενυδατικό φίλμ στην επιδερμίδα.
Είναι ο κατάλληλος ορός για κάθε κλίμα, θα σας συντροφεύει όλο το χρόνο, ακόμα και το χειμώνα που το δέρμα αφυδατώνετε προσφέρει πλούσια ενυδάτωση και στην καλοκαιρινή ζέστη σου προσφέρει ενυδάτωση χωρίς να έχεις κολλώδης αίσθηση.
Τρόπος χρήσης:
Απλώστε μερικές σταγόνες από τον ορό ομοιόμορφα στο δέρμα ,πριν η και μετά από το Cica Well Booster σπρευ ομοιόμορφα στο δέρμα αφήστε το να απορροφηθεί και ολοκληρώστε την περιποιήση σας με την Cica Well Hydrating Cream.
Είμαστε φιλικοί προς το περιβάλλον και βοηθάμε ζώα που κινδυνεύουν από εξαφάνιση:
Χρησιμοποιούμε δοχεία της καλύτερης ποιότητας PETE τα οποία ανακυκλώνονται εύκολα που έχουν την ικανότητα να μην αναμειγνύονται με άλλα ακαθάριστα υλικά τα οποία εκπέμπουν λιγότερα επιβλαβή συστατικά στην διάρκεια της ανακύκλωσης.
Tα προιόντα Cica Well ειναι φιλικά προς το περιβάλλον και πιστοποιημένα CLEAN BEAUTY προιόντα τα οποία δεν περιέχουν κανένα ζωικό συστατικό και σε όλη την διαδικασία της παραγώγης δεν γίνονται δοκιμές σε ζώα.
Ασφαλής υποαλλεργική φόρμουλα χωρίς κανένα επιβλαβή συστατικό.
Προστατεύουμε την στιβάδα του όζοντος χρησιμοποιώντας χαρτί από ξύλο το οποίο είναι πιστοποιημένο από το International Forestry Management, για να βοηθήσουμε στην βιόσιμη της προστασίας των δασών.
Στις εκτυπώσεις μας χρησιμοποιούμε φιλικά προς το περιβάλλον μελάνι σόγιας.
***Προσοχή, τα προϊόντα δεν αντικαθιστούν καμία φαρμακευτική αγωγή και κανένα φαρμακευτικό προϊόν.
ΣΕ ΟΛΑ ΤΑ ΠΡΟΙΟΝΤΑ ΤΗΣ ΚΑΤΗΓΟΡΙΑΣ ANITA BRAND COSMETICS ΔΕΝ ΜΠΟΡΟΥΝ ΝΑ ΠΡΑΓΜΑΤΟΠΟΙΗΘΟΥΝ ΕΠΙΣΤΡΟΦΕΣ ΚΑΙ ΑΛΛΑΓΕΣ!
Cash on delivery is only valid for Greece, not for foreign countries.


Greece (max 0.5kg) 2.5€
European Union
– via ELTA services (max 0.5kg) 10€
Non-European Union:
– via ELTA services (max 0.5kg) 10€

In case of non-acceptance of the import of the products in your country, or for customs charges our company does not bear any responsibility.
Within 14 days from the date of receipt, you have the right to exchange any Products bought, without any damage to you and without being required to disclose the reason for which you wish to exchange, provided that the Products to be returned are in the same condition as upon their receipt, without being worn or damaged.
All returned items will be inspected by THE BRAND SHAKER© Team. They must be new, unused and in their original state. Any product returned that is incomplete, damaged, worn or dirty will not be repeated and will be returned to its buyer.
For your convenience, upon delivery of the Products, it is advisable that you personally check the condition of the Products for any defects or problems with your order, its packaging or the Products. In case of return, any dispatch expenses resulting from such return of Products are born by yourselves.
For the shipment of jewelry to us for any reason (repair, exchange etc) our company bears no responsibility.
RETURNS OR EXCHANGE WITHOUT THE RECEIPT WILL NOT BE ACCEPTED.
OUR COMPANY HAVE NO RESPONSIBILITY IN CASE OF A BREAK OF A JEWEL UNLESS IT BROKE WHEN IT IS SHIPPED TO YOU. THE COST OF RETURNING THE PRODUCT IN ANY CASE IS ADDED TO THE CUSTOMER.
OUR COMPANY HAVE NO RESPONSIBILITY IN CASE OF THE DESTRUCTION OF THE COLOUR AND THE PLATING OF THE JEWELRY AND, ESPECIALLY, IN THE CASE OF FAUX JEWELRY SHOULD BE EXTREMELY CAREFUL IN THEIR CARE.
WARNING!!!
Until the product arrives back to our company, it is very important to ensure its safe transport as it is under your responsibility, so that the product is not lost or damaged and therefore it is impossible to return or change it.
WARNING!!!
DISCOUNTED PRODUCTS ARE NOT ACCEPTED FOR EXCHANGE OR RETURNS
RETURNS OR EXCHANGE ARE NOT ACCEPTED FOR ALL THE PRODUCTS OF THE ANITA BRAND COSMETICS CATEGORY IN NO CASE
RETURNS OR EXCHANGE ARE NOT ACCEPTED FOR ALL THE PRODUCTS OF THE CATEGORY DIAMONDS & FINE JEWELRY IN NO CASE
BEFORE RETURNING ANY PRODUCT IT IS ESSENTIAL TO CONTACT THE BRAND SHAKER© CUSTOMER services!!!
THEBRANDSHAKER@GMAIL.COM
Please contact THE BRAND SHAKER customer services.
THEBRANDSHAKER@GMAIL.COM