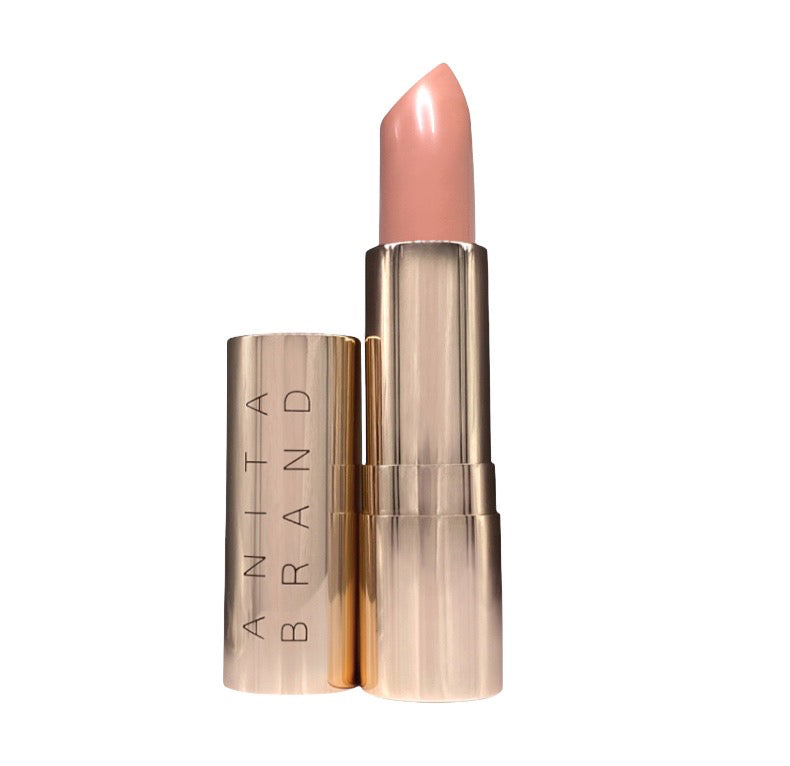 Sale price
€16,00
Regular price
CREAMY LUX PINK MUFFIN
Sale price
€16,00
Regular price
Product description
Shipping
Refunds
CREAMY LUX LIPSTICK with HYALURONIC ACID
MADE IN ITALY
*
Dermatologically tested
*
Not tested on animals
*
Cruelty Free
CHARACTERISTICS:
-enriched with last generation hyaluronic acid
-high water absorption power helps anti wrinkle effect on the lips
-creamy
-velvety
-soft
-easy application
-excellent coverage
-luminous finish
-vanilla scented
LEGISLATION:
-CEE ( Central and Eastern Europe )
-FDA ( Food and Drug Administration )
-JAPAN
TEXTURE DESCRIPTION:
Our new CREAMY LUX LIPSTICK has a soft rich formula with hydrating finish that comes in 6 universal colours.
The luxurious rose gold aluminium tube will preserve Your lipstick fresh and in it's best condition just make sure the cap is closed between uses.
Our CREAMY LUX LIPSTICK is soft and creamy providing easy and comfortable application on the lips with excellent coverage.
The blend of latest generation raw materials makes the texture comfortable, velvety and soft, while highly bright polymers give a pure and luminous finish.
Emollient oils guarantee a rich touch to the formula which matches perfectly with the smoothness that the powders give to the product.
The formula has been enriched with hyaluronic acid of last generation.
These new spheres are made of two biopolymers: hyaluronic acid at low molecular weight and konjac, a compound at high molecular weight.
These spheres, compared to the traditional ones, have a higher water absorption power and this leads to a stronger volumizing , anti wrinkle and long lasting hydrating effect. The spherical powders give sliding and softness to the product.
INGREDIENTS:
PENTAERYTHRITYL TETRAISOSTEARATE
OCTYLDODECANOL
POLYGLYCERYL-3 DIISOSTEARATE
SILICA
POLYETHYLENE
DIISOSTEARYL MALATE
MICA
OCTYLDODECYL STEAROYL STEARATE
CERA MICROCRISTALLINA (MICROCRYSTALLINE WAX)
POLYBUTENE
CERA ALBA (BEESWAX)
CANDELILLA CERA (EUPHORBIA CERIFERA (CANDELILLA) WAX)
ETHYL VANILLIN
TOCOPHERYL ACETATE
CAPRYLYL GLYCOL
BHT
DEHYDROACETIC ACID
IRVINGIA GABONENSIS KERNEL BUTTER
HYDROGENATED COCO-GLYCERIDES
ALUMINUM HYDROXIDE
CREAMY LUX ΚΡΑΓΙΟΝ ΜΕ ΥΑΛΟΥΡΟΝΙΚΟ ΟΞΥ
MADE IN ITALY
*
Δερματολογικά ελεγμένα
*
Μη δοκιμασμένα σε ζώα
*
Cruelty Free
ΧΑΡΑΚΤΗΡΙΣΤΙΚΑ:
-εμπλουτισμένο με υαλουρονικό οξύ τελευταίας γενιάς
-υψηλή απορροφητική δύναμη που βοηθά στην αντιρυτιδική δράση στα χείλη
-κρεμώδες
-απαλό
-ευκολή εφαρμογή
-άριστη κάλυψη
-φωτεινό φινίρισμα
ΠΕΡΙΓΡΑΦΗ ΥΦΗΣ:
Το νέο μας CREAMY LUX LIPSTICK έχει μια απαλή πλούσια φόρμουλα με ενυδατικό φινίρισμα σε 6 αποχρώσεις. Η πολυτελής σε ροζ χρυσό χρώμα αλουμίνια συσκευασία του θα διατηρήσει το κραγιόν σας φρέσκο στην καλύτερη του κατάσταση, απλώς, βεβαιωθείτε ότι το καπάκι παραμένει κλειστό μεταξύ των χρήσεων.
Το CREAMY LUX LIPSTICK είναι απαλό και κρεμώδες παρέχοντας εύκολη και άνετη εφαρμογή στα χείλη με εξαιρετική κάλυψη.
Το μείγμα πρώτων υλών τελευταίας γενιάς καθιστά την υφή άνετη, βελούδινη και απαλή, ενώ τα εξαιρετικά φωτεινά πολυμερή δίνουν ένα καθαρό και φωτεινό φινίρισμα.
Τα μαλακτικά έλαια εγγυώνται μια πλούσια πινελιά στη φόρμουλα που ταιριάζει απόλυτα με την απαλότητα που δίνουν οι σκόνες στο προϊόν.
Η φόρμουλα έχει εμπλουτιστεί με υαλουρονικό οξύ τελευταίας γενιάς.
Οι νέες αυτές σφαίρες αποτελούνται από δύο βιοπολυμερή: υαλουρονικό οξύ σε χαμηλό μοριακό βάρος και konjac, μια ένωση με υψηλό μοριακό βάρος.
Αυτές οι σφαίρες, σε σύγκριση με τις παραδοσιακές, έχουν υψηλότερη ισχή απορρόφησης νερού και αυτό οδηγεί σε ισχυρότερο όγκο, αντιρυτιδική και μακροχρόνια ενυδατική δράση.
Οι σφαιρικές σκόνες δίνουν ολίσθηση και απαλότητα στο προϊόν.
ΣΕ ΟΛΑ ΤΑ ΠΡΟΙΟΝΤΑ ΤΗΣ ΚΑΤΗΓΟΡΙΑΣ ANITA BRAND COSMETICS ΔΕΝ ΜΠΟΡΟΥΝ ΝΑ ΠΡΑΓΜΑΤΟΠΟΙΗΘΟΥΝ ΕΠΙΣΤΡΟΦΕΣ ΚΑΙ ΑΛΛΑΓΕΣ
Cash on delivery is only valid for Greece, not for foreign countries.


Greece (max 0.5kg) 2.5€
European Union
– via ELTA services (max 0.5kg) 10€
Non-European Union:
– via ELTA services (max 0.5kg) 10€

In case of non-acceptance of the import of the products in your country, or for customs charges our company does not bear any responsibility.
Within 14 days from the date of receipt, you have the right to exchange any Products bought, without any damage to you and without being required to disclose the reason for which you wish to exchange, provided that the Products to be returned are in the same condition as upon their receipt, without being worn or damaged.
All returned items will be inspected by THE BRAND SHAKER© Team. They must be new, unused and in their original state. Any product returned that is incomplete, damaged, worn or dirty will not be repeated and will be returned to its buyer.
For your convenience, upon delivery of the Products, it is advisable that you personally check the condition of the Products for any defects or problems with your order, its packaging or the Products. In case of return, any dispatch expenses resulting from such return of Products are born by yourselves.
For the shipment of jewelry to us for any reason (repair, exchange etc) our company bears no responsibility.
RETURNS OR EXCHANGE WITHOUT THE RECEIPT WILL NOT BE ACCEPTED.
OUR COMPANY HAVE NO RESPONSIBILITY IN CASE OF A BREAK OF A JEWEL UNLESS IT BROKE WHEN IT IS SHIPPED TO YOU. THE COST OF RETURNING THE PRODUCT IN ANY CASE IS ADDED TO THE CUSTOMER.
OUR COMPANY HAVE NO RESPONSIBILITY IN CASE OF THE DESTRUCTION OF THE COLOUR AND THE PLATING OF THE JEWELRY AND, ESPECIALLY, IN THE CASE OF FAUX JEWELRY SHOULD BE EXTREMELY CAREFUL IN THEIR CARE.
WARNING!!!
Until the product arrives back to our company, it is very important to ensure its safe transport as it is under your responsibility, so that the product is not lost or damaged and therefore it is impossible to return or change it.
WARNING!!!
DISCOUNTED PRODUCTS ARE NOT ACCEPTED FOR EXCHANGE OR RETURNS
RETURNS OR EXCHANGE ARE NOT ACCEPTED FOR ALL THE PRODUCTS OF THE ANITA BRAND COSMETICS CATEGORY IN NO CASE
RETURNS OR EXCHANGE ARE NOT ACCEPTED FOR ALL THE PRODUCTS OF THE CATEGORY DIAMONDS & FINE JEWELRY IN NO CASE
BEFORE RETURNING ANY PRODUCT IT IS ESSENTIAL TO CONTACT THE BRAND SHAKER© CUSTOMER services!!!
THEBRANDSHAKER@GMAIL.COM
Please contact THE BRAND SHAKER customer services.
THEBRANDSHAKER@GMAIL.COM