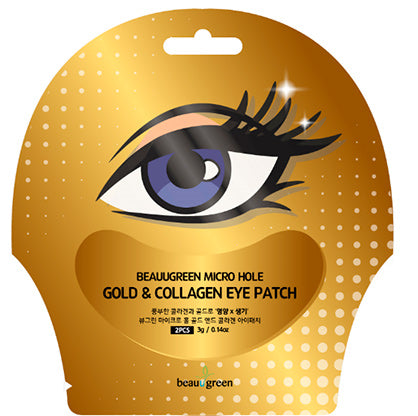 MICRO HOLE GOLD & COLLAGEN EYE PATCH
Sale price
€6,90
Regular price
MICRO HOLE GOLD & COLLAGEN EYE PATCH
Sale price
€6,90
Regular price
Product description
Shipping
Refunds
Made in Korea
-Anti Wrinkle Effect
Micro Hole Hydrogel Eye Patch has fine holes all over the gel that hold essence and are breathable, which gives active ingredients for a long time when applied. Also, it has great adherence due to fine hole, which gives moisturizing and nutrition to the skin.
Patches are impregnated with highly concentrated essence, which provide deep nourishment, hydration and effective rejuvenating effect.
The essence contains colloidal gold, which improves skin tone and wrinkles are smoothed. Gold slows down the process of collagen and elastin destruction, stimulates cell growth on the basal layer, triggers the process of renewal and rejuvenation of the skin. Gold transports oxygen molecules to the skin. Αlso serves as a kind of "lift", delivering the active components of cosmetics to the deepest skin layers and preventing the appearance of wrinkles.
1) It holds a large amount of essence throughout the micro hole, which helps moisturizing the skin.
2) Hydrogel is a water soluble gel with a similar structure as the skin that gradually releases nourishment based on the skin temperature.
3)The Micro Hole Gold and Collagen Eye Patch has needles and films that hold the gel in place, maintaining the shape of the gel and not letting it to slip off.
How to use:
After washing the face, prepare the skin with toner.
Take out the eye patches and place them on the eye area
Leave the patches on for 20 minutes and remove them. Gently pat remaining essence into the skin until it is fully absorbed.
Ingredients: Aqua, Glycerin, Butylene Glycol, Chondrus Crispus Powder, Benzyl Glycol, Ceratonia Siliqua (carob) Gum, Xanthan Gum, Niacinamide, Panthenol, PEG-60 Hydrogenated Castor Oil, Allantoin, Ethylhexylglycerin, Tocopheryl Acetate, Synthetic Fluorphlogopite, Cyamopsis Tetragonoloba (Guar) Gum, Agar, Fragrance, Ricinus Communis (Castor) Seed Oil, Isocetyl Alcohol, Calcium Lactate, Raspberry Ketone, Potassium Chloride, Glucose, Disodium EDTA, Titanium Dioxide(CI 77891), Hydrolyzed Collagen, 1,2-Hexanediol, Iron Oxide Red (CI 77491), Punica Granatum Fruit Extract, Ficus Carica (Fig) Fruit Extract, Morus Alba Fruit Extract, Ginkgo Biloba Nut Extract, Ceramide NP, Sodium Hyaluronate, Tin Oxide, Gold(CI 77480).
Eλληνικά:
To Micro-Hole Hydrogel Eye Patch έχει λεπτό τζέλ που συγκρατεί την ουσία και αναπνέει, το οποίο δίνει ενεργά συστατικά για μεγάλο χρονικό διάστημα όταν εφαρμόζεται. Επίσης έχει μεγάλη πρόσφυση λόγω της λεπτής τρύπας που χαρίζει ενυδάτωση και θρέψη στο δέρμα.
Tα επιθέματα είναι εμποτισμένα με εξαιρετικά συμπυκνωμένη ουσία, η οποία παρέχει βαθιά θρέψη, ενυδάτωση και αποτελεσματική αναζωογονητική δράση.
Περιέχει κολλοειδές χρυσό, χάρη στο οποίο τα επιθέματα κάνουν το δέρμα πιο τονωμένο και λειαίνουν τις ρυτίδες. Ο χρυσός επιβραδύνει την διαδικασία καταστροφής του κολλαγόνου και της ελαστίνης, διεγείρει την ανάπτυξη των κυττάρων στη βασική στιβάδα, ενεργοποιεί τη διαδικασία ανανέωσης και αναζωογόνησης του δέρματος. Ο χρυσός μεταφέρει μόρια οξυγόνου στο δέρμα. Χρησιμεύει επίσης ως ένα είδος '' ανύψωσης'' μεταφέροντας τα ενεργά συστατικά των καλλυντικών στα βαθύτερα στρώματα τους δέρματος και αποτρέποντας την εμφάνιση ρυτίδων.
1) Κρατάει μεγαλύτερη ποσότητα ουσίας σε όλες τις μικρές τρυπούλες οι οποίες ενισχύουν την ενυδάτωση του δέρματος.
2) Το Hydrogel ειναι ένα υδατοδιαλυτό gel με παρόμοια δομή με το δέρμα που απελευθερώνει σταδιακά τα θρεπτικά στοιχεία με βάση τη θερμοκρασία του δέρματος.
3)To )The Micro Hole Gold and Collagen Eye Patch έχει βελόνες και μεμβράνες που συγκρατούν το τζέλ στην θέση του, διατηρώντας το σχήμα του, μην αφηνοντάς το να γλιστρήσει.
Τρόπος Χρήσης:
Μετά τον καθαρισμό, προετοιμάστε το δέρμα με τονωτικό
Ανοίξτε την συσκευασία και τοποθετήστε τα επιθέματα ομοιόμορφα κάτω από τα μάτια
Αφήνετε τα επιθέματα για 20 λεπτά και έπειτα τα αφαιρείτε. Απλώστε απαλά την υπόλοιπη ουσία μέχρι να απορροφηθεί τελείως.
ΣΕ ΟΛΑ ΤΑ ΠΡΟΙΟΝΤΑ ΤΗΣ ΚΑΤΗΓΟΡΙΑΣ ANITA BRAND COSMETICS ΔΕΝ ΜΠΟΡΟΥΝ ΝΑ ΠΡΑΓΜΑΤΟΠΟΙΗΘΟΥΝ ΕΠΙΣΤΡΟΦΕΣ ΚΑΙ ΑΛΛΑΓΕΣ!
Cash on delivery is only valid for Greece, not for foreign countries.


Greece (max 0.5kg) 2.5€
European Union
– via ELTA services (max 0.5kg) 10€
Non-European Union:
– via ELTA services (max 0.5kg) 10€

In case of non-acceptance of the import of the products in your country, or for customs charges our company does not bear any responsibility.
Within 14 days from the date of receipt, you have the right to exchange any Products bought, without any damage to you and without being required to disclose the reason for which you wish to exchange, provided that the Products to be returned are in the same condition as upon their receipt, without being worn or damaged.
All returned items will be inspected by THE BRAND SHAKER© Team. They must be new, unused and in their original state. Any product returned that is incomplete, damaged, worn or dirty will not be repeated and will be returned to its buyer.
For your convenience, upon delivery of the Products, it is advisable that you personally check the condition of the Products for any defects or problems with your order, its packaging or the Products. In case of return, any dispatch expenses resulting from such return of Products are born by yourselves.
For the shipment of jewelry to us for any reason (repair, exchange etc) our company bears no responsibility.
RETURNS OR EXCHANGE WITHOUT THE RECEIPT WILL NOT BE ACCEPTED.
OUR COMPANY HAVE NO RESPONSIBILITY IN CASE OF A BREAK OF A JEWEL UNLESS IT BROKE WHEN IT IS SHIPPED TO YOU. THE COST OF RETURNING THE PRODUCT IN ANY CASE IS ADDED TO THE CUSTOMER.
OUR COMPANY HAVE NO RESPONSIBILITY IN CASE OF THE DESTRUCTION OF THE COLOUR AND THE PLATING OF THE JEWELRY AND, ESPECIALLY, IN THE CASE OF FAUX JEWELRY SHOULD BE EXTREMELY CAREFUL IN THEIR CARE.
WARNING!!!
Until the product arrives back to our company, it is very important to ensure its safe transport as it is under your responsibility, so that the product is not lost or damaged and therefore it is impossible to return or change it.
WARNING!!!
DISCOUNTED PRODUCTS ARE NOT ACCEPTED FOR EXCHANGE OR RETURNS
RETURNS OR EXCHANGE ARE NOT ACCEPTED FOR ALL THE PRODUCTS OF THE ANITA BRAND COSMETICS CATEGORY IN NO CASE
RETURNS OR EXCHANGE ARE NOT ACCEPTED FOR ALL THE PRODUCTS OF THE CATEGORY DIAMONDS & FINE JEWELRY IN NO CASE
BEFORE RETURNING ANY PRODUCT IT IS ESSENTIAL TO CONTACT THE BRAND SHAKER© CUSTOMER services!!!
THEBRANDSHAKER@GMAIL.COM
Please contact THE BRAND SHAKER customer services.
THEBRANDSHAKER@GMAIL.COM